I'm so excited to share with  you some of the new Waffle Flower goodies for the Late Fall 2017 Release! I hope you are enjoying the blog hop. There really are a lot of amazing products in this release and I have just a few to share today. Please visit the Waffle Flower Blog to see all the new release, you won't want to miss a thing!
First, I am in LOVE with the new A2 Window Shutters Die and I used it here on this card: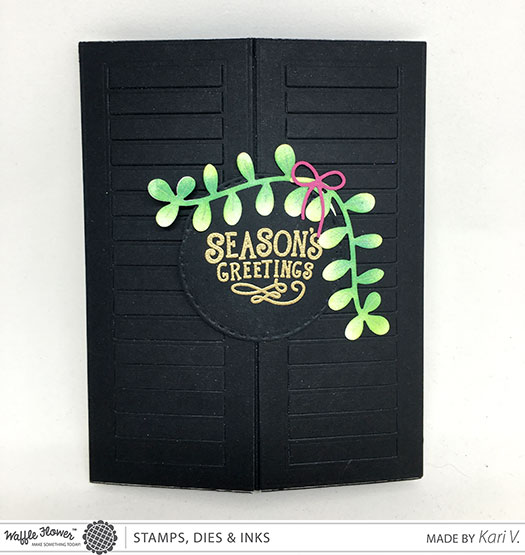 I've always wanted a white house with black shutters, so I made my shutters black. Now, when you open the card, you will find a surprise!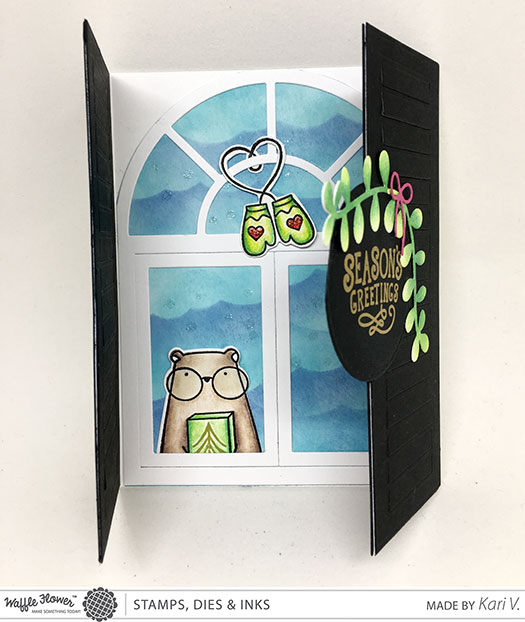 A very smart bear who can read! (This bear is from the new Books and Coffee stamp set illustrated by Big Bear and Bird.) But that's not all…open up the shutters all the way and find….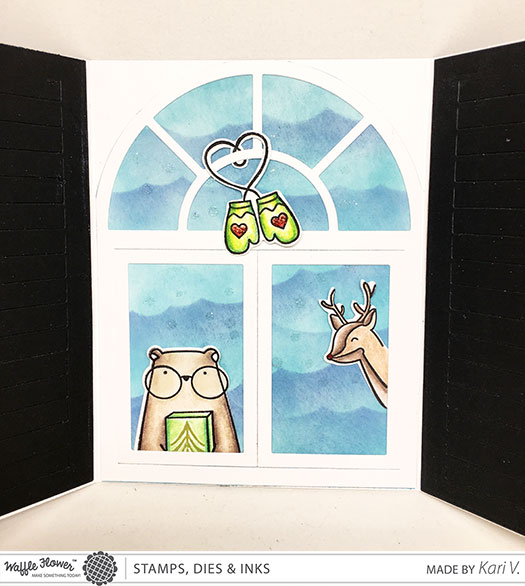 Rudolph peeking in through the window! The A2 Arch Window die is a must-have (in my humble opinion) and I have so many more fun ideas for this one.
**See my video near the end of this post, where I show you a variation of this card…to make a SHAKER card on the inside!
My second card features both the new Layering Wood Grain stamp set and Warm Hands Stamp set: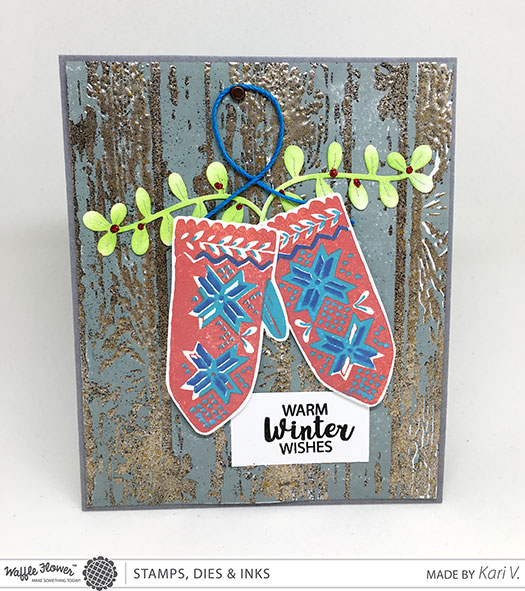 This layering wood set is so interesting, with rich wood grain throughout. Even though I do know that wood doesn't usually shine, I couldn't resist using Aged Silver Embossing Powder on the second later to create that rich look.
And take a closer look at these layered mittens from the Warm Hands set: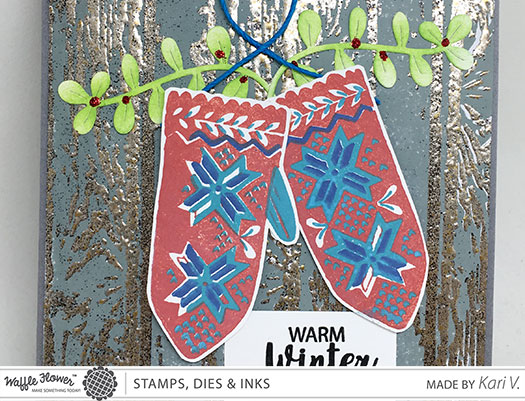 These mittens are a dream to work with! They are very easy to line up, because really, it doesn't have to line up perfectly for this rustic feeling. Confession: I've never owned a pair of mittens… (Arizona life…Lol.)
My last card to share today features the Cold Hands stamp set and these adorable ice-skating mice!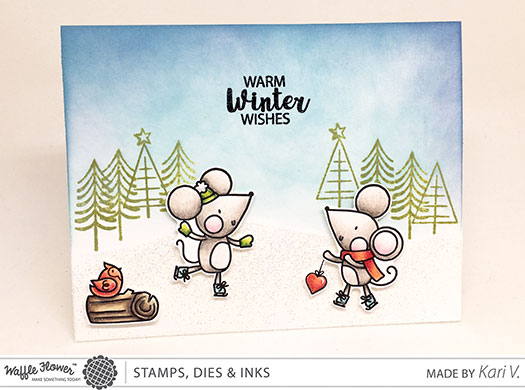 The cardinal on the log is so cute! I added an icy "lake" for them to skate on here. There is so much you can do with this set. There's also a mouse made out of snow in this set…a Mouse-man?! So be sure to check out the entire release to see every bit of cuteness.
Watch my Video here or on my YouTube channel on how to use the A2 Window Shutters die to make a shaker card. Using this method makes it SO EASY to add a shaker on the inside!
And now, you can WIN:
To celebrate the blog hop, we are giving away $25 gift certificates to FIVE lucky winners. To win, leave comments on each blog along the hop by 11:59pm ET on 10/09/17 for your chances to win! Winners will be chosen at random from the comments left on any of the posts on this blog hop and will be announced on the Waffle Flower blog on 10/11/17.
To celebrate the new release, all orders over $25 placed by 11:59pm ET on 10/09/17 will receive a free Little Sunshine Stamp Set by using promo code SUNSHINE. Of course I LOVE this stamp…it has my blog name in it!! Please don't forget: the stamp set needs to be in your cart for the promo code to work. Limited 1 per customer; While Supplies last.
Next up on the hop is the talented Katie Gehring!  Here is the complete list of the blog hop:
Waffle Flower (Nina)
Jennifer McGuire
Kristina Werner
Yana Smakula
Vicky Papaioannou
Nichol Spohr
Channin Pelletier
Kari VanNoy — (you are here)
Katie Gehring
Amanda Korotkova
Therese Calvird
Cristina Núñez (Yainea)
I hope you enjoy! Thanks for visiting. I appreciate your kind comments!
May your days be filled with sunshine,