Hello, everyone! Today I am spotlighting a NEW FAVORITE stamp set called Wonderful Florals from Concord & 9th. If you only get one set from this February 2018 new release, please consider getting this one! It is awesome and has quickly become a favorite for this year!
Affiliate links used when possible, thank you for your support!
I realize that I love to have a stack of the Wonderful Florals stamp already stamped out, then take my Daniel Smith Watercolor sample dots and watercolor in front of the TV. It is so satisfying AND I can be in the same room as my husband. Win-Win.
Here is my first favorite card: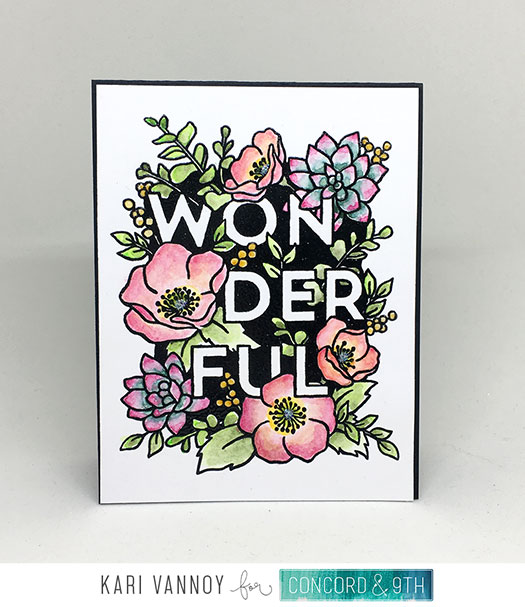 Isn't it wonderful?! This is only watercoloring that panel and cutting it down a bit to put directly onto the black card base. So simple, yet so stunning! I painted some of those flowers to look like succulents, then I painted up the flowers to look like cactus flowers (hey…I'm from Arizona, it just comes naturally!)
Next, I used that cute striped stamp in the set as a background for the die cut letters: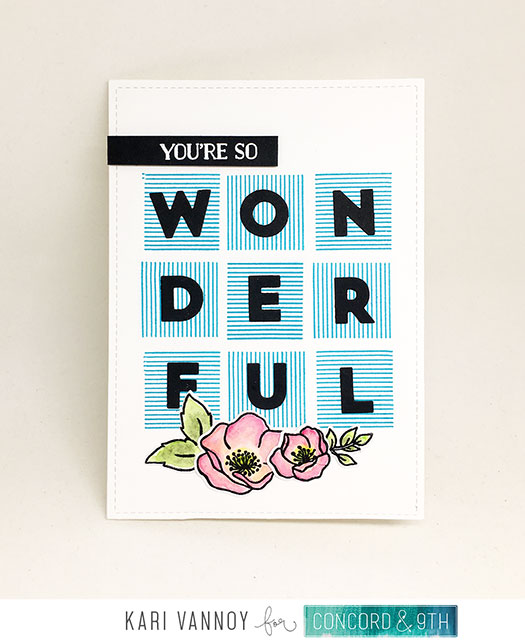 I'll tell you, it does wonders for your self esteem to have such a wonderful sentiment on your crafty desk! Lol. (I do keep this displayed on my desk right now!)
I love the stripes with the flowers and black die cut letters on top. I white heat embossed "You're so" onto black paper to complete the sentiment.
Next, I wanted to use another of my very favorite stamp sets from Concord & 9th: the Barnwood Background stamp! I stamped this with Distress Oxide ink and then heat embossed it in clear to add even more texture to the card. Then I added my watercolor Wonderful Floral stamp onto black fun foam. Last, I used distress ink to ink up the letters in an ombre fashion and added some white gel dots. I attached the letters using foam tape.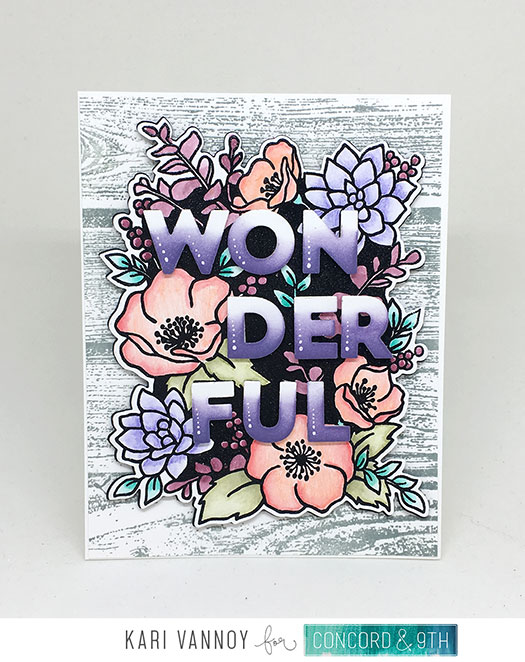 Oh my heavens, I love how this turned out! Concord & 9th has such striking, beautiful sets, don't they?
And I may have gotten a little carried away…because I just couldn't stop making these in all the colors!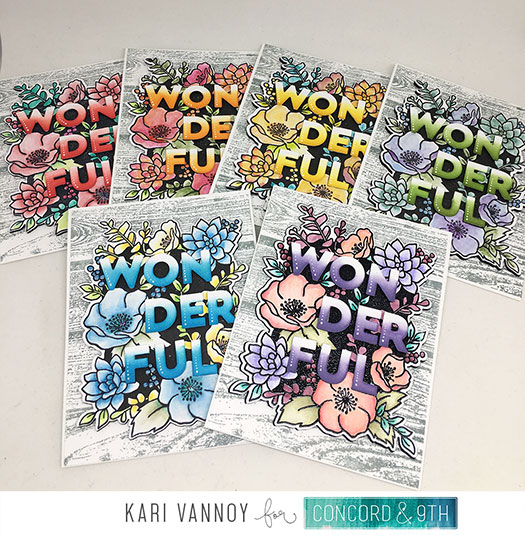 When I told my husband I was going to make this card in all the colors, he told me I was crazy. Maybe I am, Honey, Maybe I am….BUT JUST LOOK AT THAT PICTURE! It was all worth it if just to capture that picture.

On the inside of the card I stamped "Have a Wonderful Day" or "You're so Wonderful."
The Wonderful Floral dies are also a must have…they make it not only easy to cut out the shapes and letters for the cards I've made above, but they also make it easy to create SHAKER CARDS!
I used just the die cut word "Wonderful" and added a few of the single flowers around it: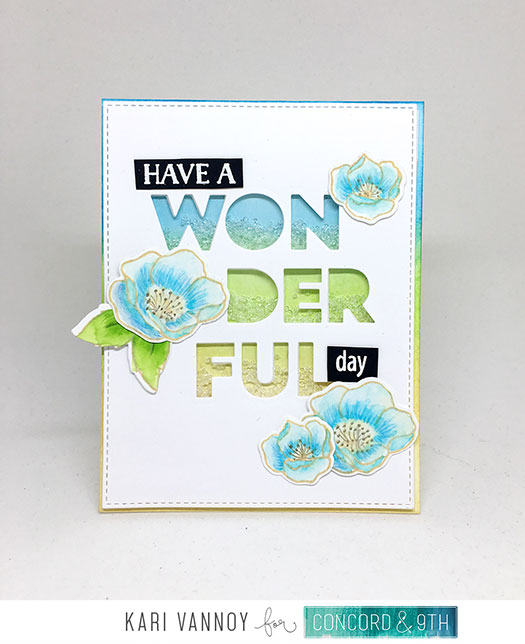 I used clear beads for the inside of the shaker and it adds such a fun element.  I white heat embossed the sentiment onto black cardstock to add before and after the shaker word. Here's a close up: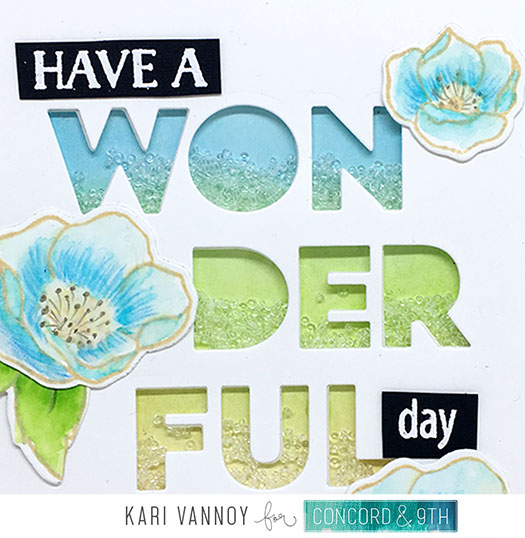 I hope you enjoyed these projects today! As you can see, there are SO MANY things you can do with this Wonderful Florals Bundle set.
I'll leave you with a couple more of my favorite pictures:
Thanks for stopping by! Have a wonderful day…;)
Supplies Used:
May your days be filled with sunshine,