I usually don't start making pumpkin treats until October or November, but here it is early September and I've already made my favorite mini pumpkin pies. But I have a good reason! My daughter is pregnant and she was craving pumpkin pie. How can I say no to that?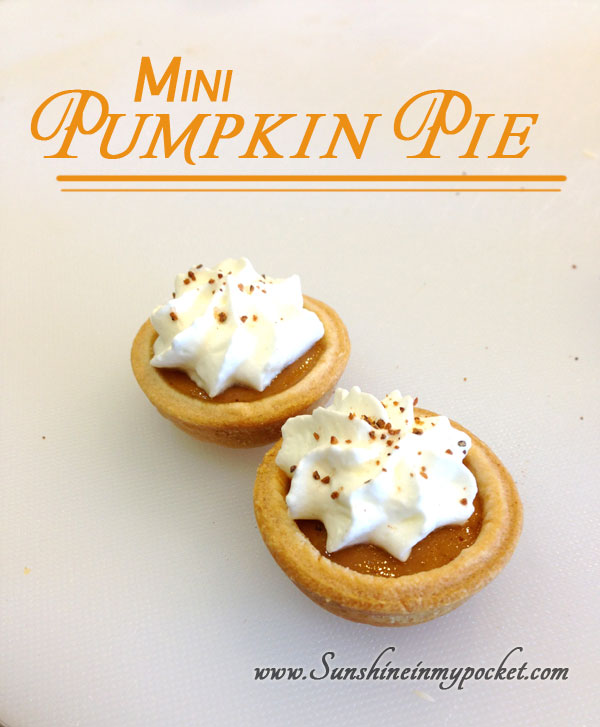 These are so fun to make, and even more fun to eat! But they are dangerous…you can pop a whole pan of these into your mouth before you even realize it. (don't ask me how I know this)
But of course, I did take the majority of them to my daughter, who is in the hospital with complications. She NEEDED them!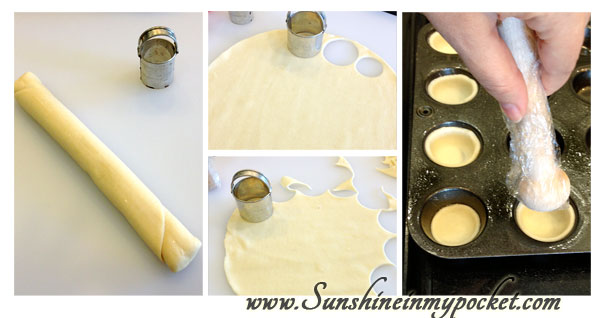 I bought pre-made dough to hurry this process along, and used a 2″ circle biscuit cutter to make the perfect sized dough circles for the mini muffin pan. (Don't mind my saran wrap on the dough plunger…I'm a little conscientious that way…ha!)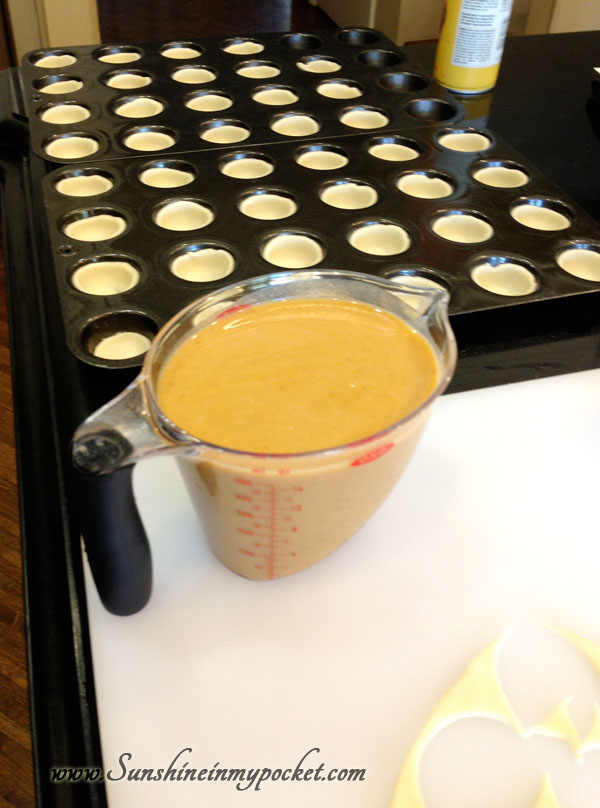 I used two pie crusts, but I could have used more since I was a little short and had PLENTY of pie filling. This is my grandmother's pie recipe that I grew up on and just LOVE.
Use a Tablespoon to spoon just the right amount of filling into each mini pie crust.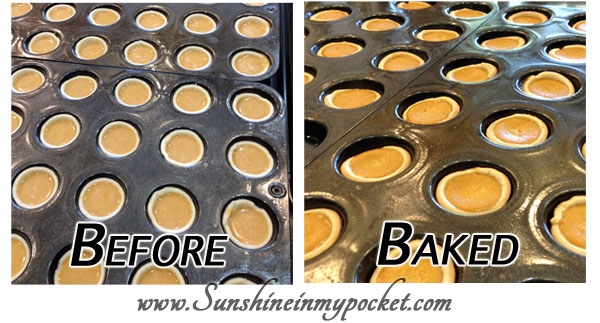 They come out looking all delicious like this! Try to remain calm as you wait for them to fully cool before adding a bit of whipped cream. But, really…they are still good with melted whipped cream on top, but they don't LOOK as pretty! (Use the real cream here and whip it up with a little sugar. It's SO much better!)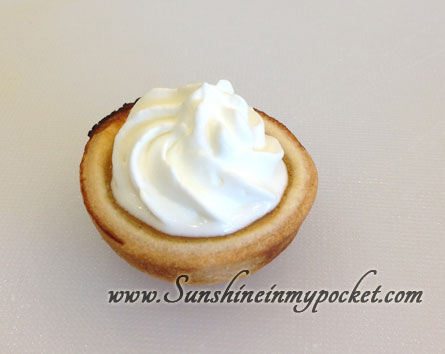 Then a little sprinkle of nutmeg (or cinnamon) on top adds just the right amount of yum!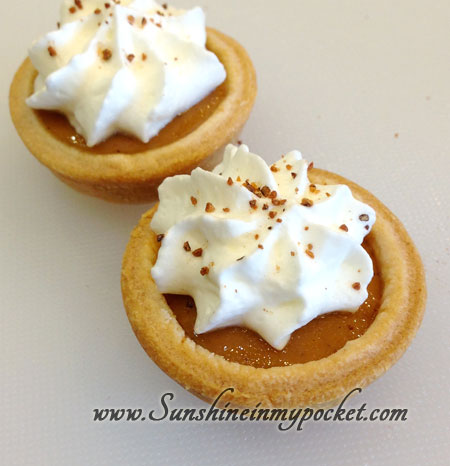 Oh these are so good! But be prepared…this recipe makes about 100 mini pies. Which is perfect for a party, or a girls lunch, but not so good if you are just at home waiting for the rain to pass. (Remind me to go for a walk later…)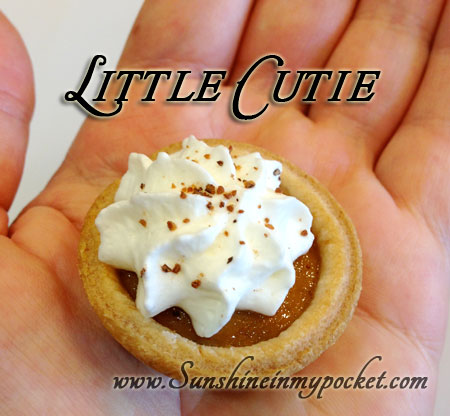 Aren't they so cute? If you are looking for the recipe, come back by end of the day…I just have to go dig it out to share with you! It's live now! Here it is:
Ingredients
3/4 c. canned pumpkin
6 T. brown sugar
2 T. white sugar
1/2 t. cinnamon
1/4 t. salt
1/4 t. nutmeg
1/8 t. ginger
2 eggs, slightly beaten
3/4 c. milk
1/3 c. evaporated milk
1 t. vanilla
Refrigerated pie dough, pre-rolled
Instructions
Preheat oven to 425 degrees.
Prepare the dough by cutting it into 2" circles with a cookie or biscuit cutter. Press into mini muffin tins.
Combine pumpkin, brown sugar, white sugar, cinnamon, salt, nutmeg & ginger in mixer until well incorporated.
Add 2 slightly beaten eggs, milk, evaporated milk, and vanilla. Mix well.
Use a tablespoon to spoon the pumpkin mixture into the pie crusts. Bake for 6 minutes at 425 degrees, then turn the oven down to 350 degrees and bake for an additional 13-15 minutes.
Allow the mini pies to cool completely before topping with fresh whipped cream and a pinch of nutmeg.
http://www.sunshineinmypocket.com/mini-pumpkin-pies/
So now I am completely ready for fall. And Halloween. And Thanksgiving.

And if you like pecan pie, you'll love these Pecan Tassies!
May your days be filled with sunshine,