Oh, how I love mermaids. My sister & I used to watch the Little Mermaid all the time when we were kids. But we would watch an animated version of the movie, Marina was the mermaid's name and the little fish's name was Fritz, instead of Flounder. I think it is the one based on the Hans Christian Anderson story. It had a very sad ending (she turned into the foam on the waves of the ocean), but we loved it!! Have you ever seen this version?
Anyway, I was so happy to win the Mermazing Stamp Set from My Favorite Things! Here is the first card I have made with this set: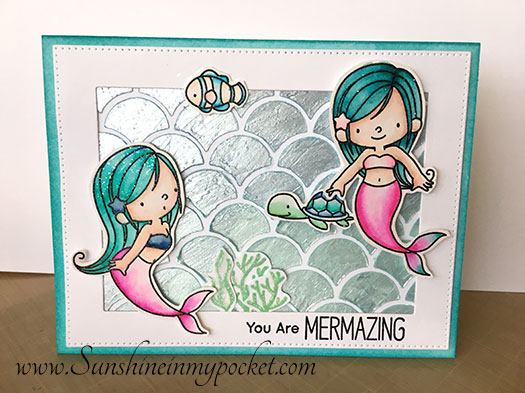 I used Modeling paste in pearl white, and colored it with Distress Inks for the background. Then I colored the mermaids with Zig Clean Color Real Brush Markers. There is so much shine on this card! Notice the glittery mermaid hair. My mermaids would all have glittery hair, of course!
Entering the MFT Color Challenge here.
May your days be filled with sunshine,