These MFT Polar Bears have got to be a new favorite! If you follow me, you already know that I have a soft spot in my heart for bear stamps (of any kind!) so I can make cards for my Dad…it's become a thing. So yeah, I collect all the bear stamps I can find that I think he might like.
This year, I purchased this set called "Polar Pals" from My Favorite Things. When I got it in the mail, my 3-year-old nephew was with me and when he saw them, he exclaimed "Oh, I love polar bears!" Then he ran off with my stamp set! Lol. So I thought I'd better make a Polar Bear valentine for him.
I ended up making FIVE different valentines, using this stamp set and Stitched Alpha dies as the common theme. Here they are!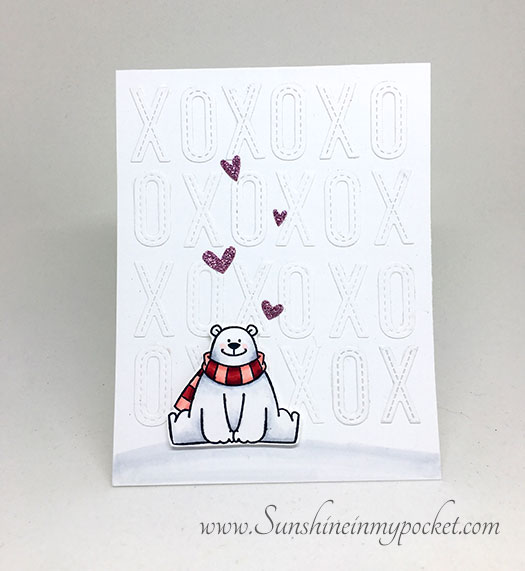 This was the card that started it all! I woke up one morning with the idea to have a bunch of Xs and Os in the background (white on white). Yes, I did quite a bit of die cutting that day!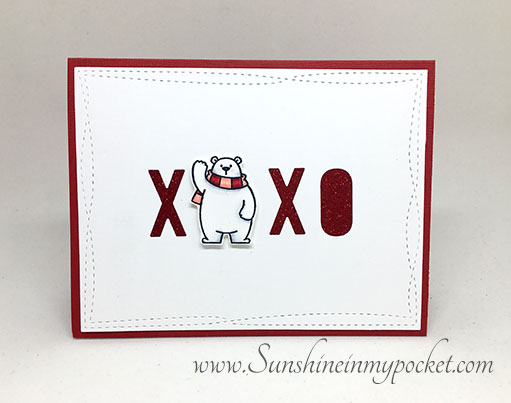 Then, this cutie became one of the "Os" in this card. I colored up all the bears with Copic Markers. It may be hard to see…I used red glitter paper behind the die cut Xs and Os on this card, so it has a glittery pop!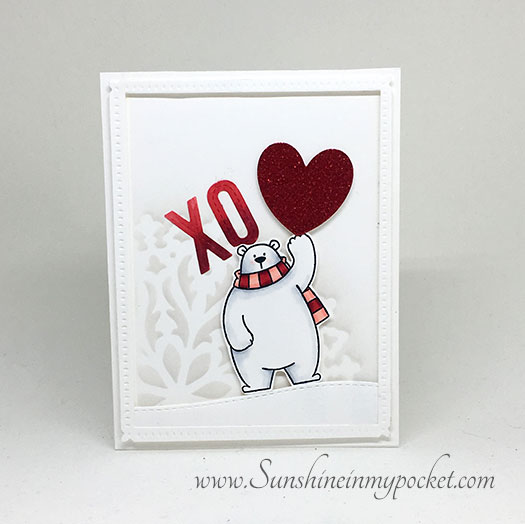 This one HAD to hold up a heart! So, using that same glitter paper, I die cut a heart for him. Added a couple Xs and Os colored with the same Copic colors as his scarf, and put him standing on top of a snowy hill. The stencil background is a favorite of mine from Penny Black. And that frame is a new favorite from Our Daily Bread Designs.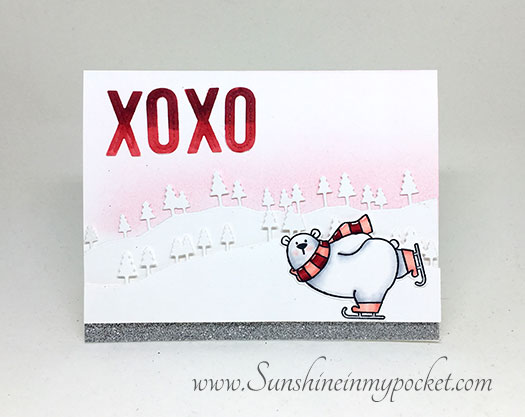 This ice skating bear has got to be one of my favorite images from the bunch. I love it when a stamp set includes great images….so great that you love them all! Here, he is skating on a silver glitter "pond" with trees and snow in the background. I popped up the trees in the forefront so there is some good dimension to this card. Those Copic Colored Xs & Os really pop on the pink inked background!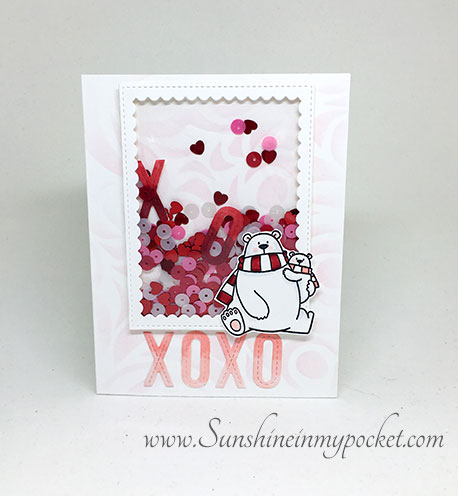 And of course I had to make a shaker card! The cutest little red heart sequins are inside, along with a Valentine mix of sequins sure to make the recipient smile (I hope)!
I really enjoyed thinking of different ways to make a Valentine card with one stamp set! I hope you enjoyed and got inspired to make some of your own.

May your days be filled with sunshine,