I couldn't resist this Seagull stamp set from MFT Stamps. So I thought it would be the perfect time to try them out with a Nuvo Mousse sea made with a stencil!
I learned about Nuvo Mousse and how to use it from Online Card Classes: Sparkle & Shine. I had already purchased some in Sea Foam green and was waiting for just the right time to use it. Enter Day 5: Paste & Mousse.
Here is my card. The Nuvo Mousse has a little shiny sheen to it when you hold it in the right light. And look closely, because I added a little "glitter foam" to the top of the waves for even more sparkle! (Can you ever have too much sparkle?) I did this using a VersaMark Pen, then sticky embossing powder, then distress glitter in Clear Rock Candy. Can you believe I have never used sticky embossing powder before this class? It's a tragedy! I love this stuff!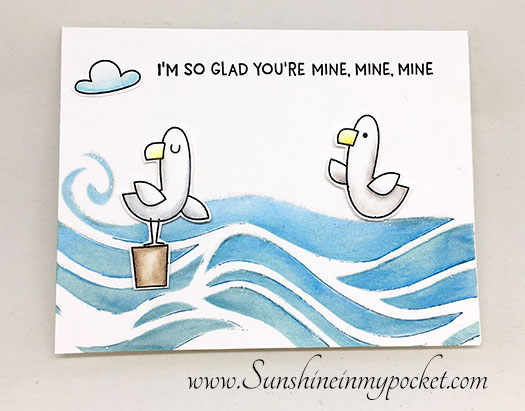 I love Seagulls. They are great for coloring…so easy! I just added a little gray and some yellow/orange for the beaks. The sentiment makes me smile, too. I imagine the seagulls fighting over the fish…saying "mine, mine, mine, mine!" Lol.
I wish you could see the shimmer better. But real life is always more glittery, I guess.

Here's a List of supplies I used:
(affiliate links used where possible, at no extra cost to you)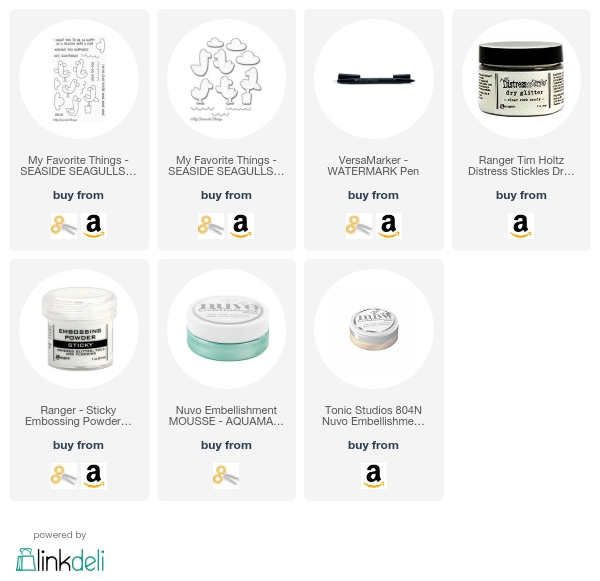 May your days be filled with sunshine,