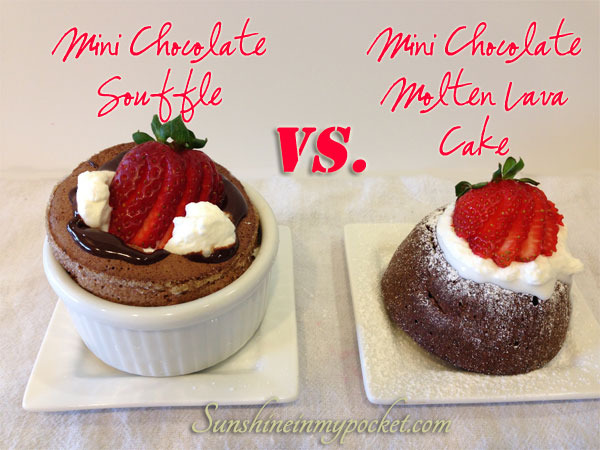 This Taste Test Tuesday was very exciting and quite close! In fact, both of these recipes are SO delicious, that I would recommend trying them both out for yourself! Last week, I posted the Foolproof Mini Chocolate Souffle with Chocolate Sauce recipe. And today, I will review both contestants for you and share the Chocolate Molten Lava Cake recipe. Does this sound delicious or what?!
I can hardly wait! First, let me share with you this delicious little Molten Lava Cake recipe. I got it from my daughter, Amber, and she made it as one of her goals last summer. She was working on her recipe book (getting ready to leave the nest…which I was not happy about). But I WAS happy about her sharing her delicious recipes with me, including this gem of a chocolate dream recipe.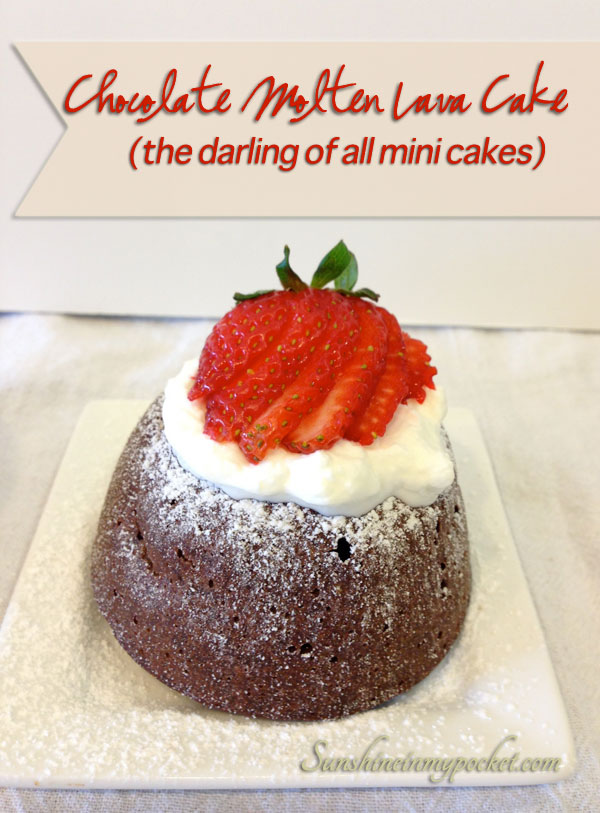 I call these the darlings of all mini cakes…I mean, just look at that cute little cake! It's adorable with it's crown of whipped cream and sprinkle of powdered sugar. I added a strawberry, too, since it was competing with those little Chocolate Souffles and needed to be on a "level" playing field.
If you were to compare the ease of whipping these Lava Cakes up versus making up the Mini Chocolate Souffles, I'd say the Lava Cakes win. All you have to do is melt a little butter with the chocolate (in the microwave!), add the powdered sugar, eggs, vanilla and flour and Voila! You've got your batter all ready to put into the oven. Then you just cook them up for 12-13 minutes, pull them out and invert onto a little plate. Easy. (Note: I let them cool for about a minute before inverting them onto the plate)
If you add the whipped cream too early, it melts a little down the sides, but these Molten Lava Cakes are BEST when eaten warm and fresh out of the oven!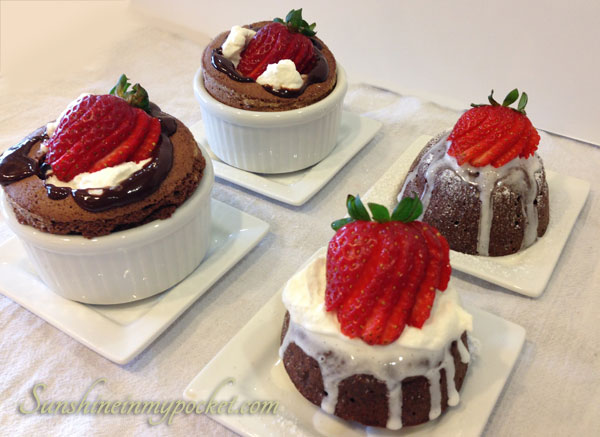 Doesn't that still look so yummy!? I really don't mind that dripping whipped cream. Just let me at it!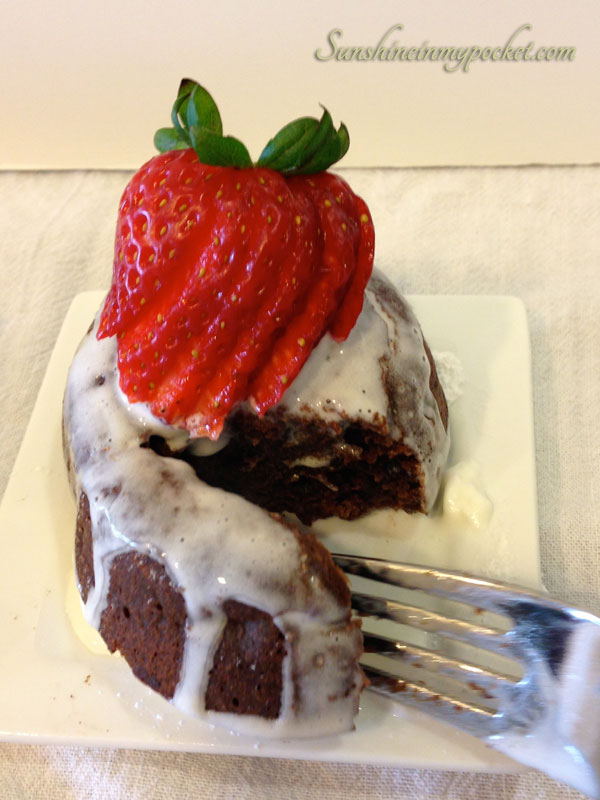 The insides of the cake are all gooey and molten. So smooth and chocolatey. Wow.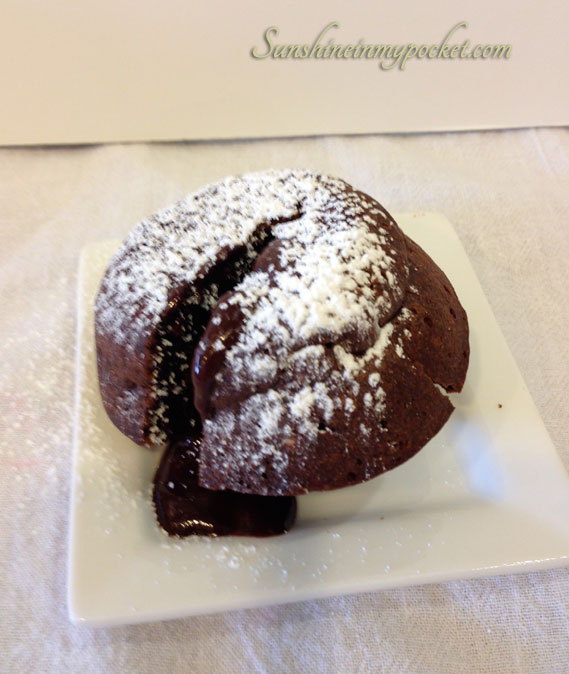 These little darlings are delicious with whipped cream and/or ice cream! Yep, you can put a scoop of ice cream right on the top and sort of let it melt down into the cake. So. Good.
But before you make these yourself, a little note of  WARNING: do not overbake these. Really. It is easy to do (not that I would know), and it RUINS these cakes! They become dense and spongy and not delicious. Seriously. It's bad. The last batch I only cooked for just over 11 minutes to make sure the inside was still melted and yummy. You will know these are just about done when the sides of them look cooked (like cake) and the insides are still a little soft, but not jiggly. Every oven is a little different, so you're gonna have to test this out for your oven.
Ok, so here's the recipe. Are you going to try this one?
**RECIPE HERE
Taste Test Tuesday — Chocolate Molten Lava Cake Recipe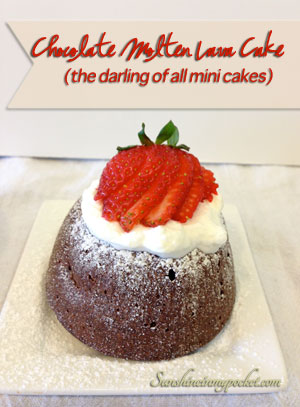 Ingredients
4 pieces (squares) Semi-Sweet baking chocolate (I used Ghirardelli)
1/2 c. butter
1 c. powdered sugar
2 whole eggs
2 egg yolks
6 T. flour
1 t. vanilla
whipped cream for topping
Instructions
Preheat oven to 425 degrees.
Spray 4 custard cups with cooking spray and place on cookie sheet.
Place chocolate and butter in microwave safe glass bowl and microwave on high for about 1 minute, until butter is melted. Stir until all the chocolate is melted, too.
Stir in powdered sugar until well blended.
Add eggs and egg yolks and whisk until well incorporated. Stir in flour and vanilla.
Divide between 4 custard cups. Bake for 12-14 minutes until sides are firm and center is soft. Let stand 1 minute.
Invert onto small plates and top with whipped cream or ice cream.
http://www.sunshineinmypocket.com/taste-test-tuesday-chocolate-molten-lava-cake-recipe-versus-mini-chocolate-souffles/
Now, with all that delicious description done, I must now announce the winner of the taste test! I didn't forget. But I must remind you that BOTH of these recipes are so good, and the winner only barely edged out over the other.
They both have a delicious chocolately flavor. They both have melty amazing centers. They both are just exactly the right size. They both are perfect for a special occasion dessert.
But the winner was the one with a little sugar coating on the outside, and an amazing ganache center. It won out a little bit because the cake part was delicious, but then pushed over the top with an addition of the melted chocolate to make it so smooth and so decadent…(my mouth waters a little). And the winner is still delicious the next day…it can be refrigerated and then warmed up again and it tastes just as good as the first day!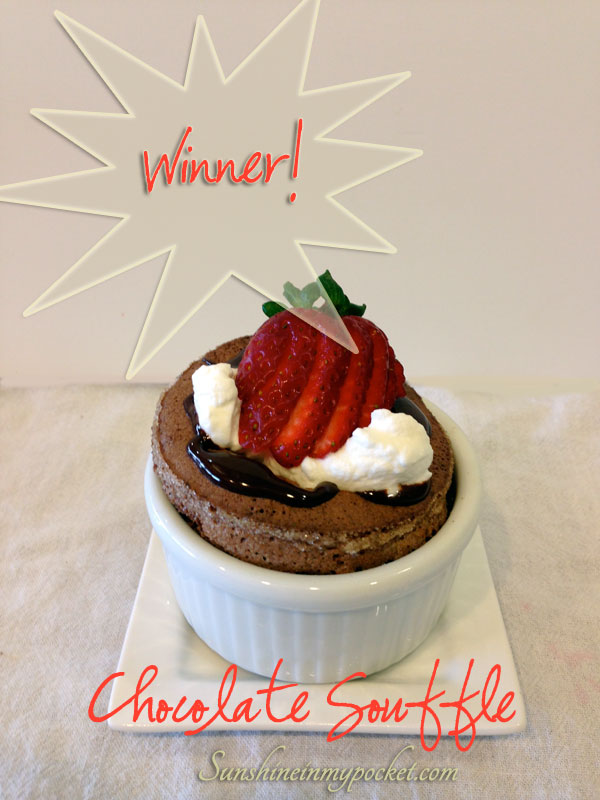 I guess the extra effort for the chocolate souffle really did shine in this competition! Congratulations to the Mini Chocolate Souffles with Chocolate Sauce.  While I still love the Chocolate Molten Lava cakes, I love these more (and the other judges agree). Try the recipe here and see if YOU agree.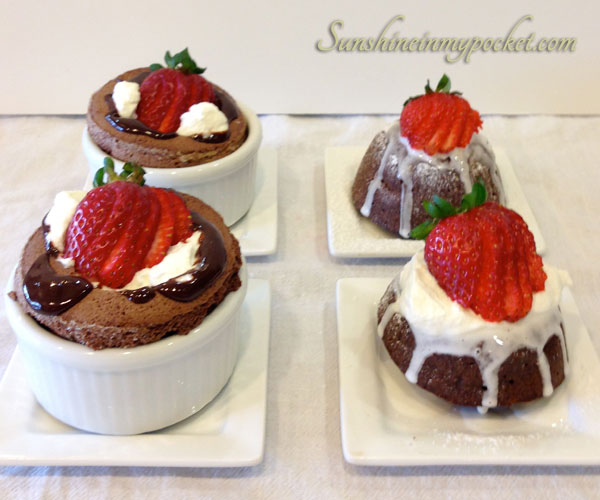 Until next time, enjoy every bite!
May your days be filled with sunshine,